Visit our trade-fair stand virtually
We cancelled our participation in the Fensterbau Frontale 2020 due to the Coronavirus crisis. The last few months have of course been all about the preparations. This means that we have thought about how we can give you an exciting view of our exhibition and we do not want to keep this from you. Now, we are happy to invite you on a virtual tour of our 1,000 m² stand. Simply click on our video below and remember to switch on the sound.
We have also prepared a lot more for you and over the coming days and weeks we will present our innovations and the ongoing developments of our proven bestsellers here on the website. We hope you enjoy the virtual tour of our trade-fair stand.
Your MACO team.
P.S. For any questions, we are gladly available for you via phone or email under the usual contacts.
Unspoilt Views - Our large surface solutions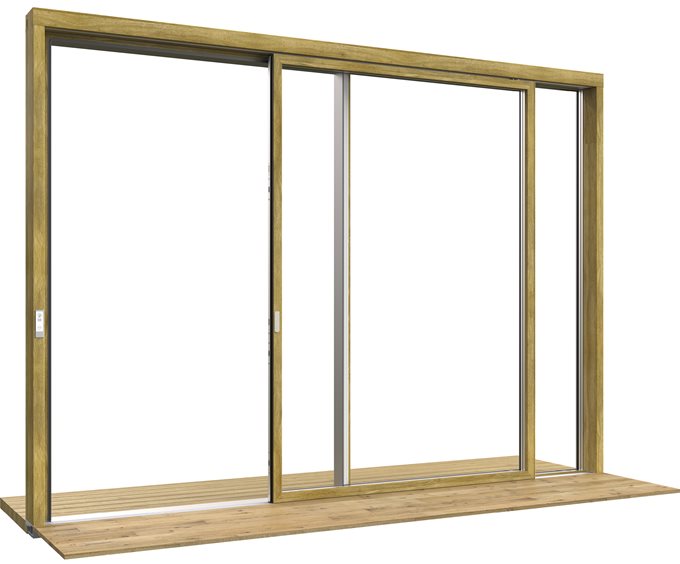 InfinityView - The Lift & Slide Revolution
The MACO InfinityView, timber on the inside and aluminium on the outside, is our revolutionary lift&slide system for the premium sector. It delivers limitless views, with only 5 centimetres of sash frame width and is totally barrier-free. The secret to this clever system construction is the glass-fibre reinforced plastic core, which also enables timber elements with up to 10 m2 of glass surface to be realised. InfinityView is available with manual or motorised control, passive house-ready and secure according to Resistance Class 2.
Additionally, we supply you with made to measure sash frames, all drilling and routing included. The full system concept is rounded off with the additional services, which include, for example, licenses for burglary prevention or our support with the initial attack.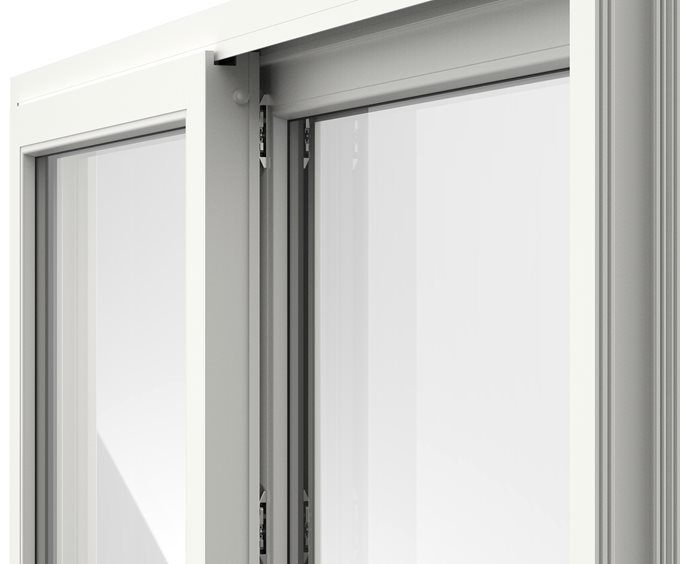 MOVE - Series production made easy
Our brand new MOVE sliding system boasts outstanding properties for series production. MOVE guarantees absolute joint tightness thanks to the positive control that presses against the frame. It is a cost-effective alternative to lift&slide doors as well as an easy-to-use option for slide&tilt systems.
MOVE is characterised by the low operational effort required. In addition, the easy handling avoids incorrect operation and any resulting damage. Easy assembly is also a bonus, with both the turn&tilt hardware and the slide hardware able to be installed with standard tools. Another advantage is the high tolerance of up to +/- 5 mm.
Superficial? Multi-layered!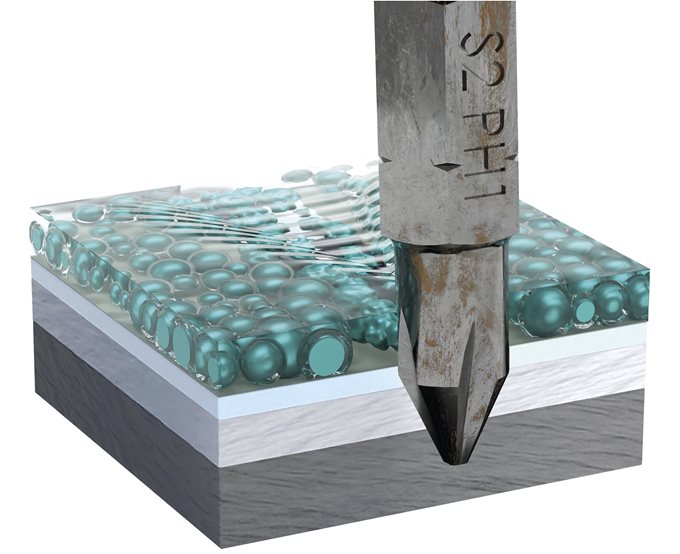 Unmatched robustness - unique in the world!
We are experts in corrosion protection. Years of experience, extensive know-how and the desire to perfect our products has led to our latest surface highlight - the MACO Evo effect.
In creating this, we have used nature's own idea where human skin recognises small injuries and heals them independently. We have transferred this intelligence to our products. The result is a world-class surface - curtain up on our Silverlook-Evo!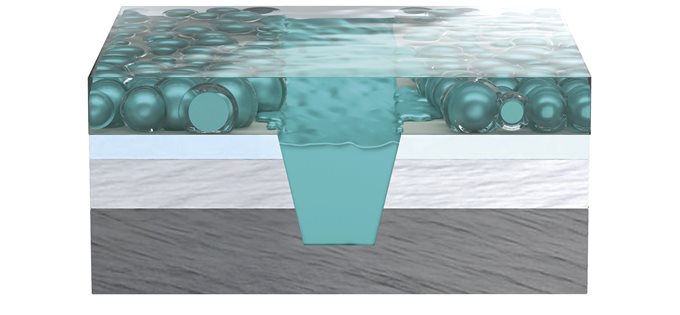 The MACO Evo effect
A surface that lubricates and heals itself. Sounds futuristic? At MACO, this is already the present. The method responsible for this is called tribological sealing.
The nanocapsules integrated in the sealing serve as containers for lubricants and anti-corrosion substances. Under mechanical stress, these capsules burst and the contained substances lubricate the surface. They heal damage by refilling and sealing scratches caused during assembly, even before rust can develop. Curious?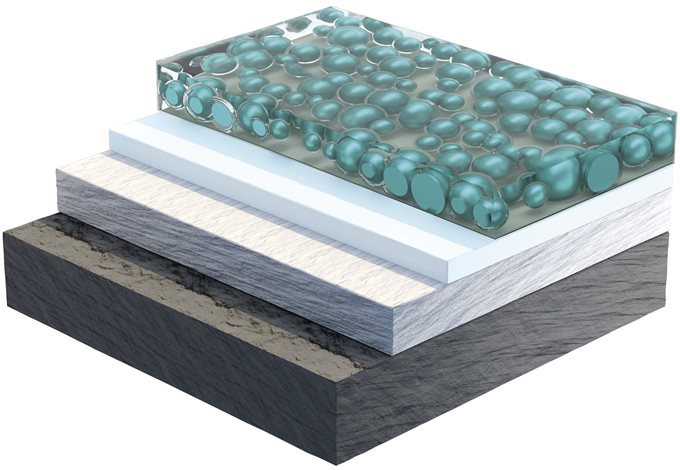 Silverlook-Evo - Uniquely good as standard
At MACO you can expect absolute premium features already in our standard version. Higher operating comfort goes hand-in-hand with the best corrosion protection and increased service life. This is the result of an optimally matched layer construction of zinc coating, passivation and sealing.
Thanks to the unchanged look, you benefit from a very easy conversion to improved surface characteristics. The MACO Evo effect with self-lubrication and self-healing is the icing on the cake.
Innovations around the window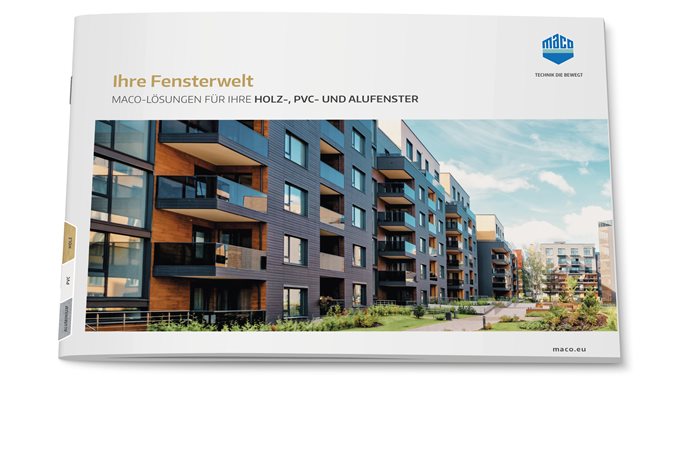 New technologies, new design

How will we live in 10 to 20 years, how will we operate windows and what technical requirements will be required for this? These questions drive us, coupled with the search for differentiation in the sustainable success of our customers in the window market. In addition to worldwide innovations, the result is above all many small product enhancements.
Improvements that make your day-to-day work as a fabricator easier. Innovations that offer more comfort, design and security at home. With high scalability and consistent certification. Precisely market-ready products for all materials and window shapes. Would you like a peek into the MACO world of windows?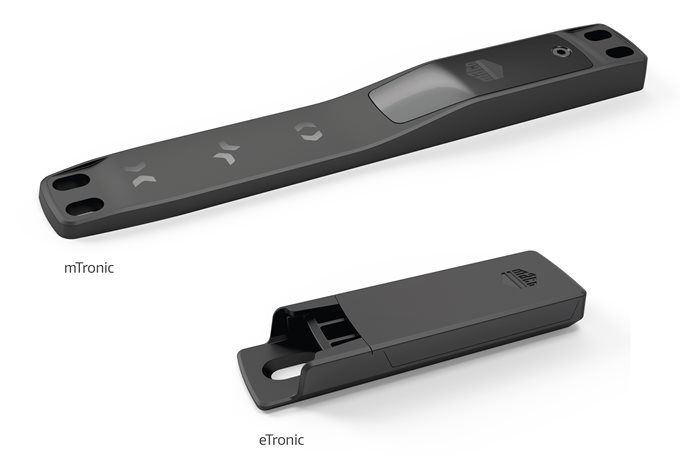 It becomes digital...
What does digitalisation mean for the window? For example, an increase in security. Windows that automatically detect whether they are being lifted up without authorisation and report this, even if they are in the tilted position. The mTRONIC wireless sensor makes this possible.
As a slim variant, MACO eTRONIC impresses as it monitors the closed state of the window and convinces with its simplicity. No hardware modification or special components are necessary, while every window size and RC matrix is possible. This variant also opens up new business models, such as a pre-configured smart home window. If required, the end customer can easily supplement the electronics needed for closure monitoring.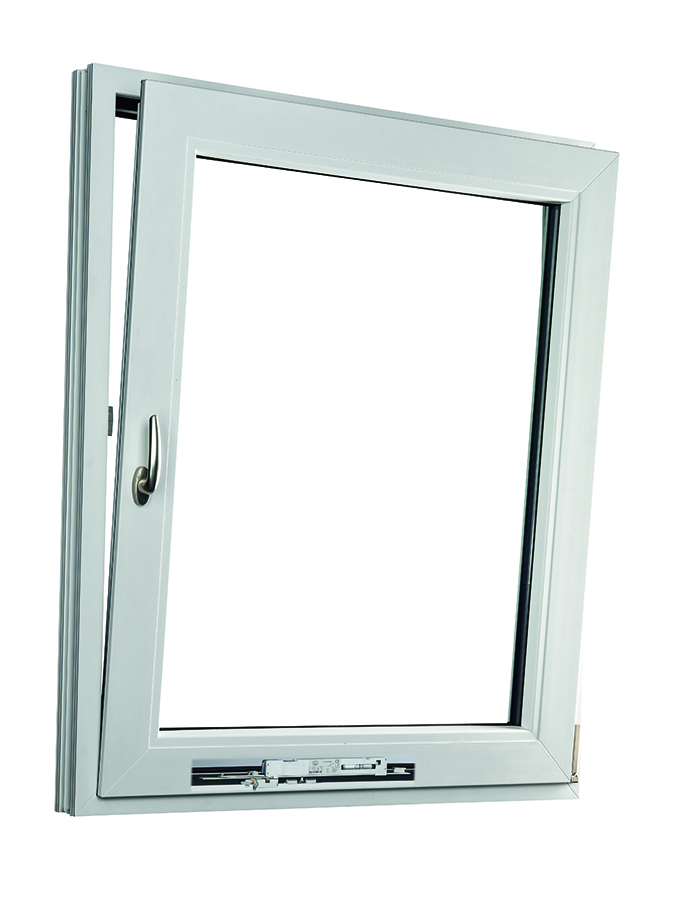 ... and thus more comfortable
Digitisation on the window in top form - for maximum comfort, combine our TRONIC closure monitoring with the MACO E-hardware. The window drive allows both an electric and also at any time manual operation of the sash. 100% smart home compatibility makes natural living room ventilation a breeze. Simply tilt the window via a button or automatically via the intelligent home control.
The E-hardware is controlled via an actuator with integrated mini-gateway from Eltako, which is Apple Home Kit enabled. It therefore does not need any extra control.
Your benefit as a fabricator - our concealed window drive is routed directly into the fitting groove. It can also be mounted without cables into sashes and glass grooves or with cable transition between the frame and sash. In this way, the sash can always be easily hung or demounted.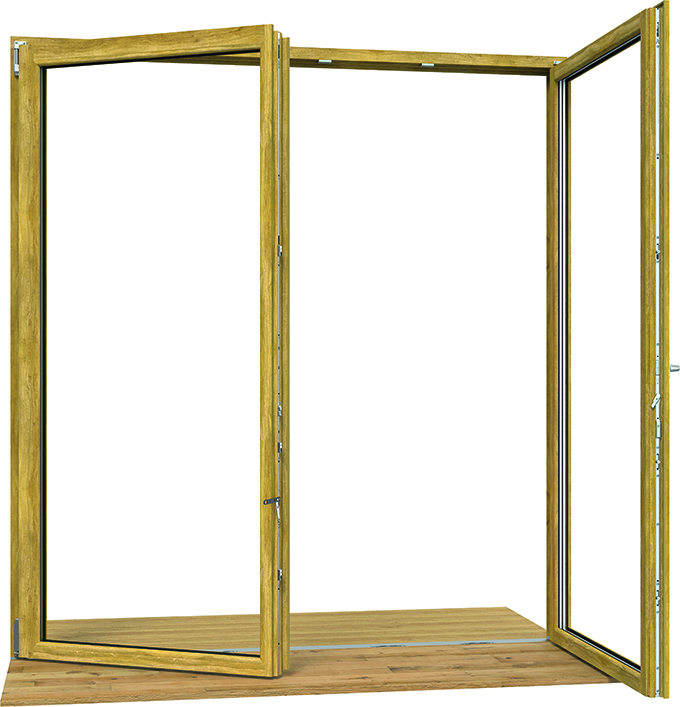 We remove obstacles
The threshold does not stick out one millimetre, thanks to MULTI ZERO. Falls, broken toes or trip hazards are now a thing of the past with our zero-barrier solution. An obstacle-free passage is thus possible for wheelchair users and for children on their toy cars.
How? What is unique, is the locking points in the threshold. In the locking and tilting position, two cast hooks attached to the sash reach into the striker plate which is integrated in the threshold. This solution is now also available for timber elements and double-sash balcony doors.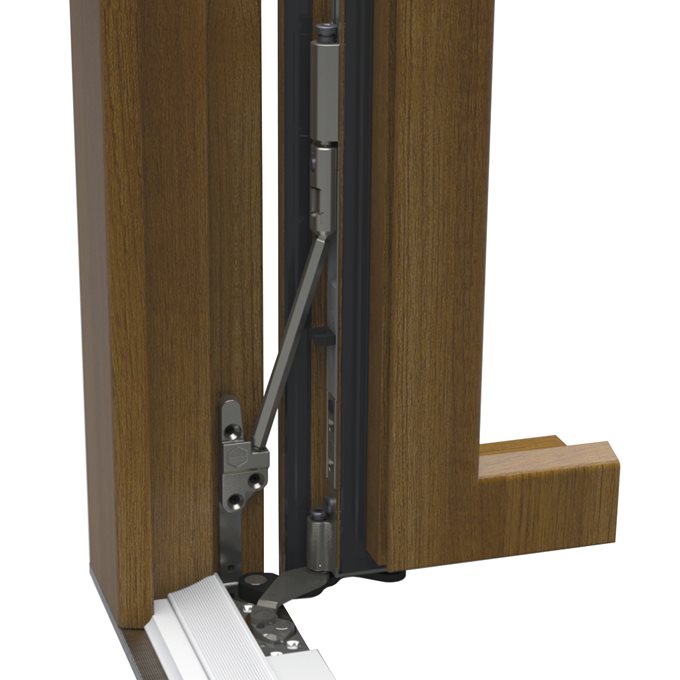 Our powerhouse continues to grow
Taking innovative paths and thereby opening up new possibilities. MACO succeeds in this once again with, for example, the new load transfer device. This transfers the sash weight into the frame instead of into the floor threshold as usual.
What's so special about that? This allows you to produce or retrofit even heavier sashes. 150 kg sash weights are easily achieved when balcony doors are subsequently made even more burglar-proof with safety glass, or when multi-pane glazing further improves the windows' insulation values. Our MULTI POWER powerhouse handles this without any problems at all. Almost thresholdless and completely invisible.
Weatherseals & Thresholds
Your complete range of weatherseals from a single source
As a system provider, we think holistically and offer you a complete range of weatherseals from a single source. Our weatherseals are designed in combination with our hardware and thresholds. They insulate reliably over a long period of time, so that your customers benefit from energy savings and sound insulation.
In addition, our seals are manufactured in state-of-the-art processes and have the highest long-term resilience. For example, we have also optimised the head geometries for a clean and dense fabrication of the corners.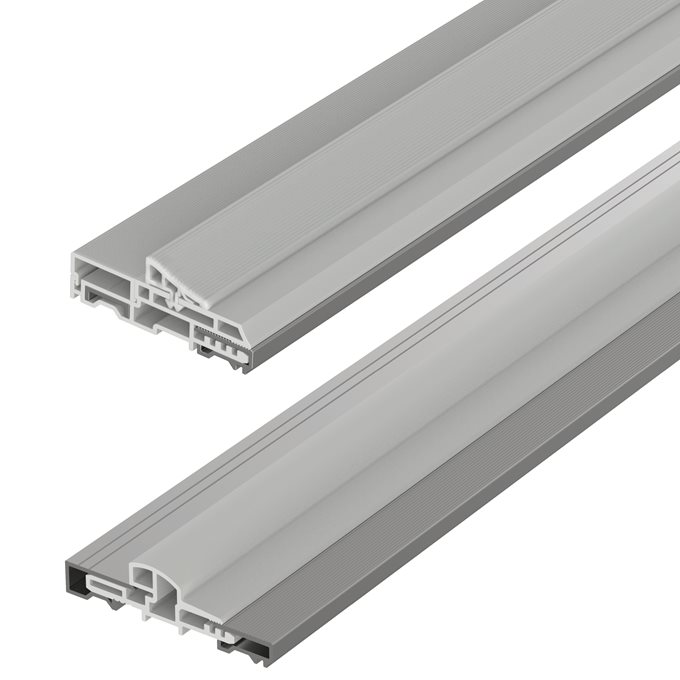 Transit - our thresholds
Our Transit thresholds are a part of our system provider concept - these work in conjunction with window systems, profiles and weatherseals. Two variants are available, namely Transit Personal and Transit Extendable. With their chic design, they really enhance balcony and terrace doors.
Transit Personal is the only threshold that can be individually adapted to the profile geometry, and this without major investments. It can be integrated into any timber and timber-alu system up to 160 kg and meets the highest technical requirements.
And our extendable threshold also boasts top-class tightness against air and rain. It was developed with the aim of providing maximum performance with minimal processing.
The MACO system concept also has an important focus on our services, so that you can concentrate on your core business in a relaxed manner. With the MACOACADEMY testing and service platform, along with the wide range of MACO data services, we provide you with the necessary setup for a legally safe, fast and simple manufacturing process.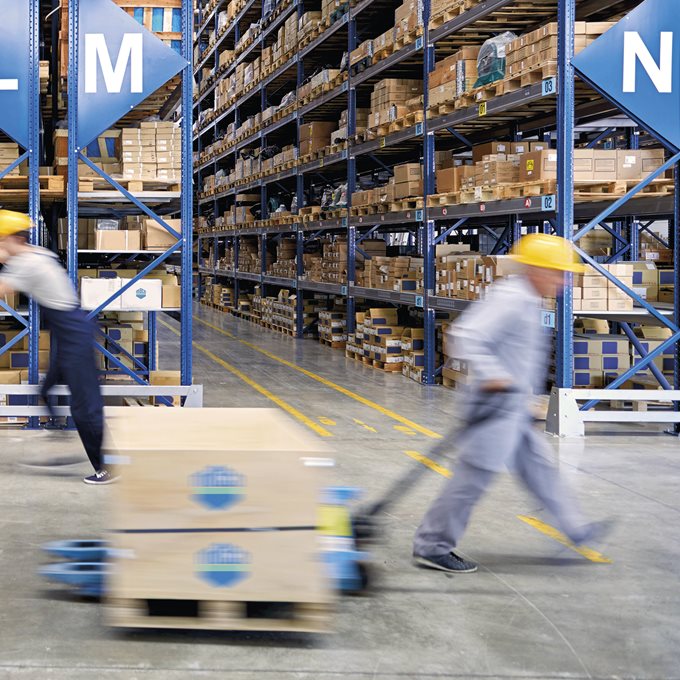 MACO Data Service - the foundation for production processes
In times of Industry 4.0, data services are becoming more and more important. With data made available quickly and easily, we support you in all processes from product enquiries, to hardware configuration or integration of machine data into your production.
With Macowin for individual hardware, the technical online catalogue TOM as a product information and ordering platform, or EDI connections for automated orders, MACO offers a wide range of useful data services and thus ensures an efficient collaboration. We do this because it is precisely the quality and speed of data that determine your competitive advantage.
Come on in to our Door World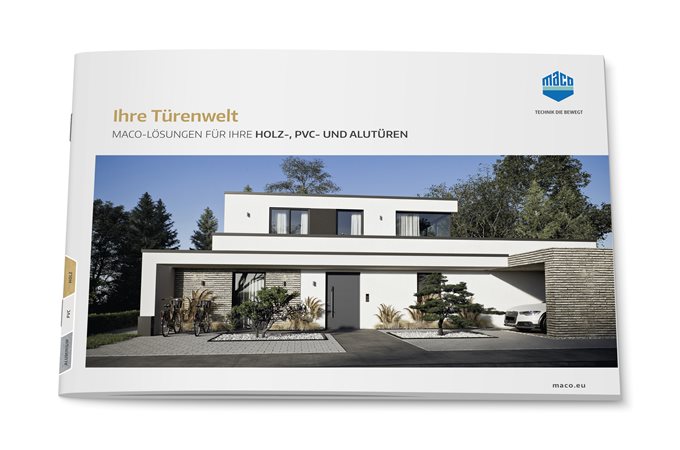 Whether you are looking for particularly secure, comfortable or barrier-free doors - with our sophisticated range you can produce doors tailor-made to every customer's request. Discover the innovations and further developments that we have prepared for you over the last two years, and which of these are already available on a market-specific basis.
Have fun on your journey through our door lock portfolio!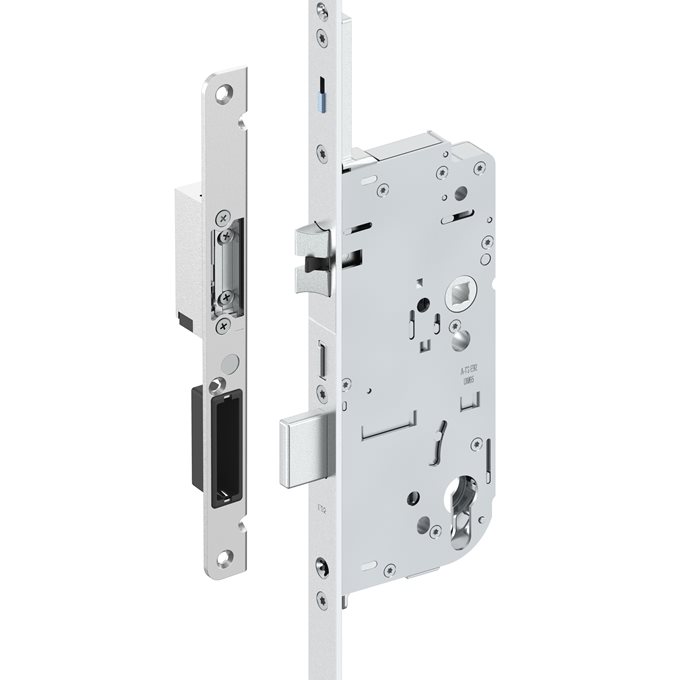 A-TS – optimised & VdS certified
Simply pull closed and the door is locked at three points – without turning the key. Only with the A-TS automatic lock does the locking pin automatically engage. In this way, no-one can get in but everyone can get out via the door handle.
Your wishes were the incentive for numerous expansions of the product range:
The A-TS is also now available VdS certified
The door becomes child-safe when the opening can be blocked from the inside via the handle
In multi-party houses, on the other hand, the main entrance must always be passable for everyone – handle blocking is then deliberately dispensed with
Comfortable opening is child's-play with our drive motor
Supplemented with a latch switch contact means VdS certification is possible at any time
Many other customer requirements, such as additional door limiters or Swiss round cylinders, can be easily fulfilled with our extensive range of accessories.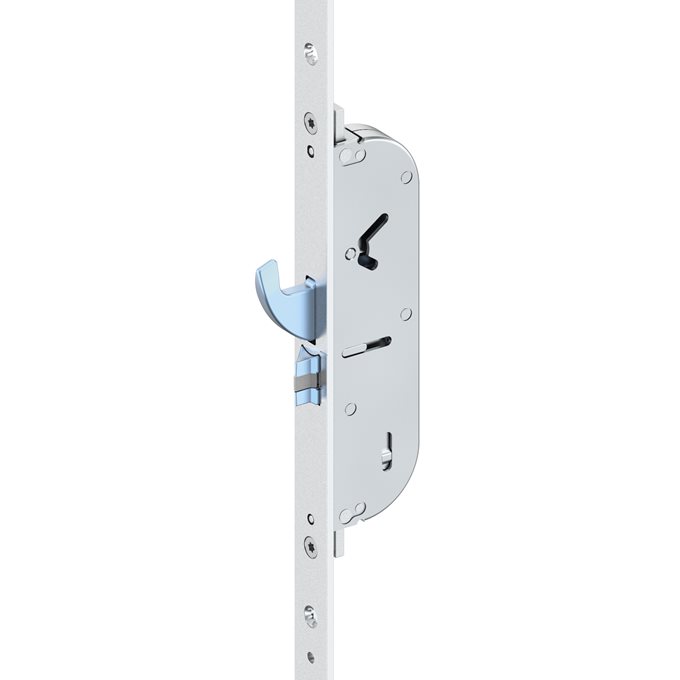 Z-TF - New locking combination = more features
Automatically sealed but manually locked – this makes the proven 3-latch lock a classic in the PROTECT range. The new hook lock (MF-HO) is a recent addition. As well as having the highest gasket compression and a smooth operation, the Z-TF now guarantees even more security thanks to the use of two hooks that extend upwards.
The MF-HO lock also offers extra advantages with the new, optionally retro-fittable day release. Now only a single E-opener is sufficient, compared to the previous three, which saves fabrication effort.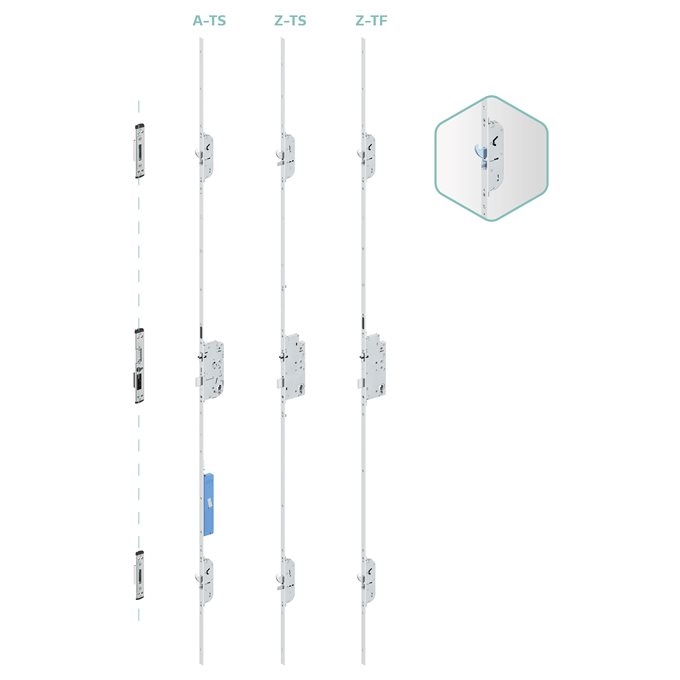 Multiple additional locking points, one striker plate range
MACO has them all in the product range – multi-function latches with hooks (MF-HO), only hooks, only bolts or the combination of hooks and bolts.
Whichever variant you choose, you can combine all cylinder-operated lock families with the same striker plate range – from the entry solution to the premium (Z-TS, Z-TF, A-TS and M-TS). This optimises workflows and reduces complexity because milling dimensions, screwing and drilling images and case positions are all uniform.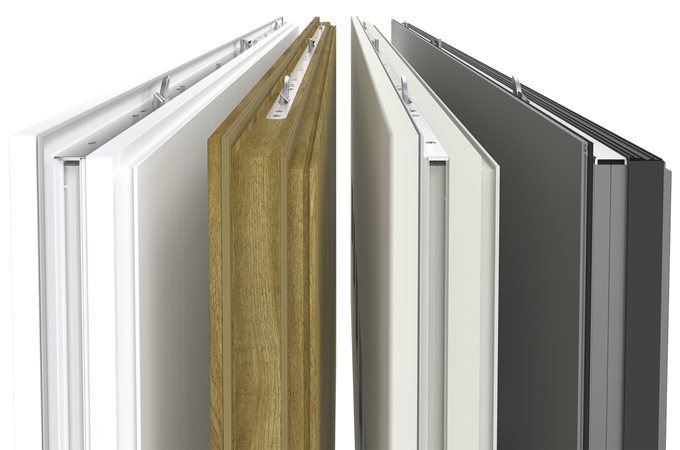 Faceplates as optical highlights
Faceplates are more than mere covers in the door, they also shape the appearance of the rebate or conceal inaccurate milling and dirt deposits, like our top-hat faceplate.
Our comprehensive range of faceplates has now grown with the U-faceplate in high-quality, brushed stainless steel surface for aluminium systems. Here, top-class design is evident in every detail.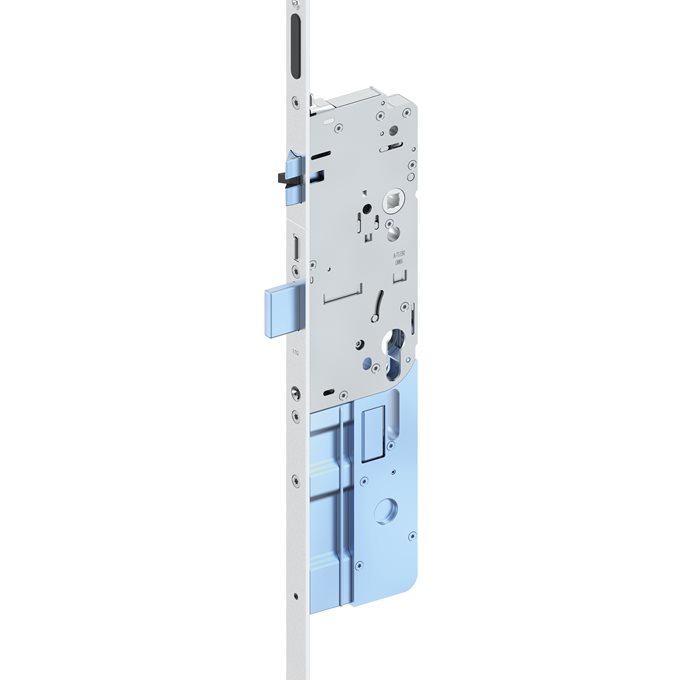 M-TS - the fastest motorised lock
What else do we have in store for you? Our fully motorised door lock M-TS, which will be available from the end of 2020. This brings us to a new level in terms of comfort and speed on the door. By generating the gasket compression mechanically using our proven 3-latch technology, the motor can concentrate on the essentials of locking and unlocking. The M-TS is uniquely fast and unbelievably quiet!
It is also faster and easier to fabricate with standard instead of free-wheel cylinders and saves an additional milling in the door leaf. In addition, the motor lock can be easily coupled with smart home systems and alarm systems, thanks to integrated closure monitoring.