MULTI ZERO 0 mm threshold systems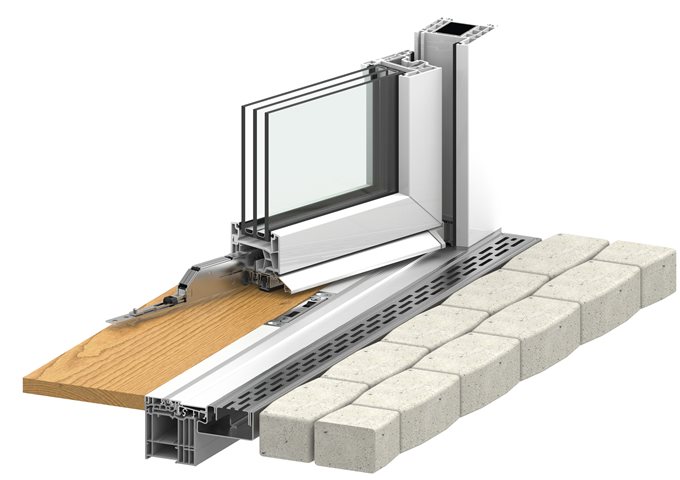 MULTI ZERO for a fully barrier-free design
MULTI ZERO is the new locking hook from MACO, which is redefining barrier-free design. 20 mm is not the tolerance limit for barrier-free thresholds – no, at MACO, only zero millimetres will do. It is the absolutely compromise-free flush-fit threshold, with no risk of tripping.
Whether it is a child's trike, walking frame or wheelchair, the new locking hook is the unique technical solution for creating a professional, thresholdless transition, without any obstacles. It is suitable for the high-end private market as well as public buildings, retirement homes, nursery schools, and so on.
The clever locking solution engages from the sash into the striker plate in the threshold. Not only does the double hook offer extra security for burglary resistance (RC 2), it also connects the sash and threshold to form a unit which meets all water and air-tightness requirements. Zero, zilch, zip, nada, nothing can get in between and nothing protrudes at all. Another multi-talent from MACO!
Zero barrier thresholds
with MULTI ZERO
Advantages & benefits
Advantages for
Fabricators
Enables easy construction of stepless thresholds with locking points – unique on the market
Locking hook can be linked for easy adaptation to the door width
Low logistic effort as only two components required
Tilt striker plate is replaced by locking hook
Easy fabrication as only one pocket must be milled in the fitting groove
Centre die anchorage for easy and secure assembly
Standardized security class RC 2 possible
Benefits for
End users
Convenience and security combined
The threshold offers no resistance at all
Unique solution, which goes beyond the existing standard in which thresholds of 20 mm are regarded as "barrier-free"
Zero-barrier – yet sealed against ingress of water and air
"Turn and tilt" possible
The locking hook enables standardized security class RC 2 for zero-barrier threshold systems
Same maintenance interval as all other fittings