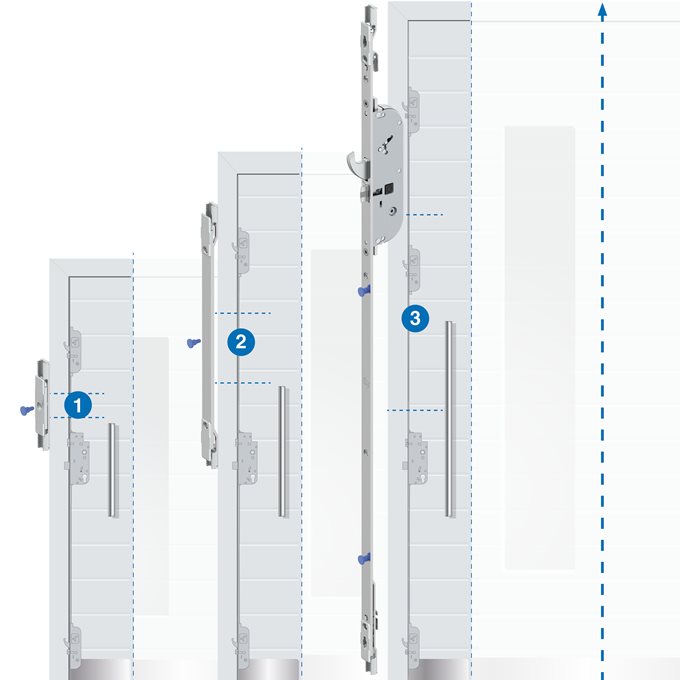 The Z-TS/G-TS MACO PROTECT module meets a wide range of requirements. Standardised installation procedures go hand-in-hand with full flexibility regarding the height of the multi-point locking system. The Z-TS/G-TS PROTECT module offers a technically perfect solution for any door height. No additional headaches with storage capacity or installation times. The Z-TS/G-TS PROTECT module can be used in timber, PVC or aluminium front doors. The basic standard for the Z-TS/G-TS PROTECT module door lock is the hook&bolt combination with triple-point locking system.
Advantages & benefits
Advantages for
Fabricators
The Z-TS/G-TS PROTECT module satisfies every customer demand up to an unbelievable sash rebate height of 3100 mm.
Standardised hinge with few module variants
Savings on storage space and logistics thanks to compact, easy-to-store modules
Reduced effort and cost reductions thanks to uniform routings (uniform case)
Use of commercially available, pre-stamped reinforcements possible
Benefits for
End users
Customize any front door with the multifunctional hardware of the Z-TS/G-TS PROTECT module.
High-level security with hook&bolt combination locks made of solid steel
Provides additional protection against distortion of the door leaf when locked
Even for very tall front doors (up to 3100 mm), the PROTECT module effectively counteracts any door-leaf distortion over the long term when locked
Effortless operation of the door lock, even at high gasket compression
The following modules can be retrofitted in the Z-TS/G-TS PROTECT module system: door turn-restrictors, magnetic cams, additional locks and hook&bolt locking systems.
They ensure perfect function whatever the particular requirements
Easy to retrofit, upgrade or replace components in existing door systems
Burglary-resistance grade up to RC 3 according to EN 1627 - 30