MACO WinWeb
Simply get started – without an installation or window construction program
You don't have a window construction program? Then our new online tool MACO WinWeb is the ideal solution for you. It offers support for windows, doors and sliding doors and guides you through the most important configuration steps. The software assists with the decisions by means of clear graphics. In this way, you receive tailor-made offers based on proven standard solutions. And all this without installation – all you need is an internet connection.
MACO WinWeb is available free of charge in the MACO Partner Portal. Register today and apply for this practical service!
Functionality in detail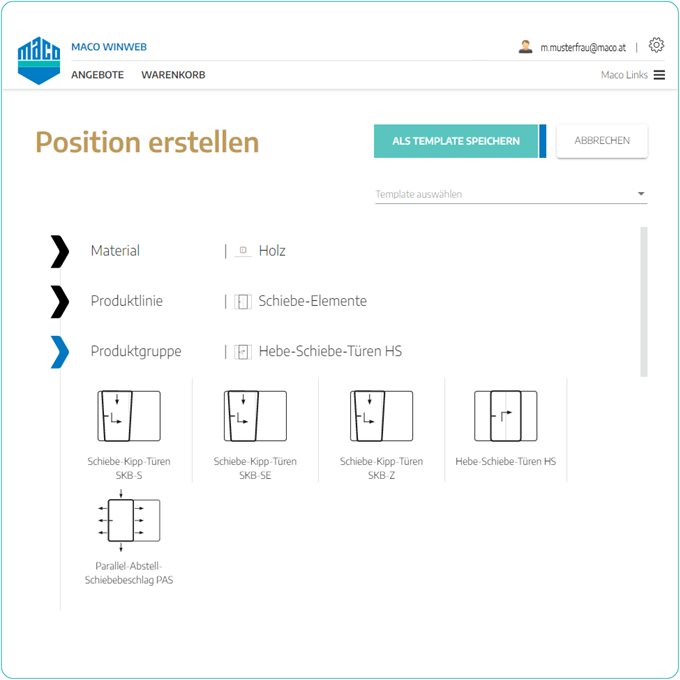 Guided hardware configuration
MACO WinWeb can do it. Create compilations for simple turn&tilt windows, automatic door locks or huge lift&slide doors with just a few clicks. The wizard guides you step-by-step through the hardware configuration. This gives you tailor-made elements based on proven standard solutions – and all error-free!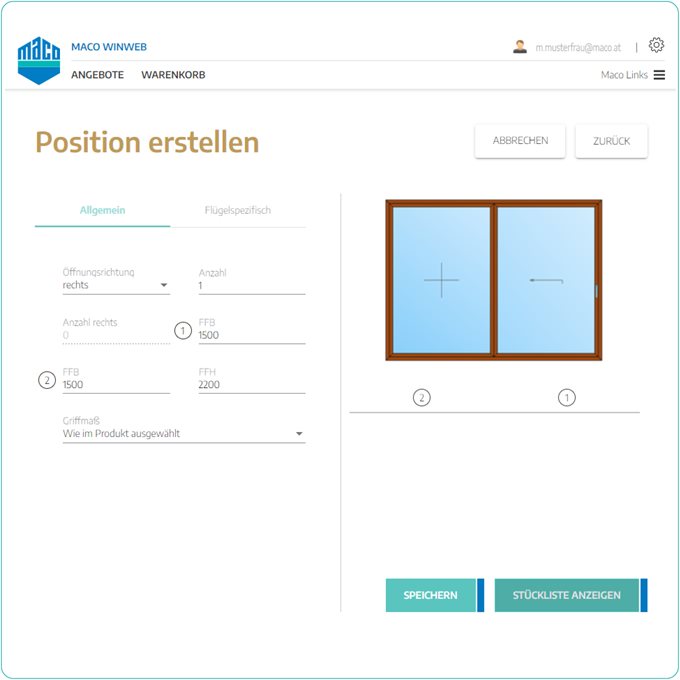 Create templates
Whether windows, doors or sliding doors – convince your customers with tried and tested elements. Save your standard solutions as a template and load them into new offers in a time-saving manner. Of course, you can adjust these new requirements accordingly (e.g. window size).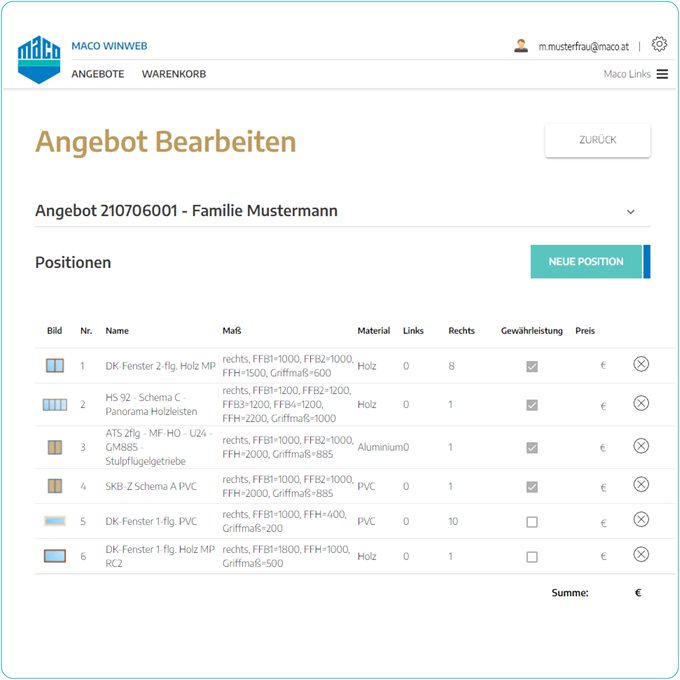 Create offers
Create offers for your clients with any number of positions, depending on your project requirements. The most important parameters can also be found in your offer. If you want to change something, you can click on the detailed view.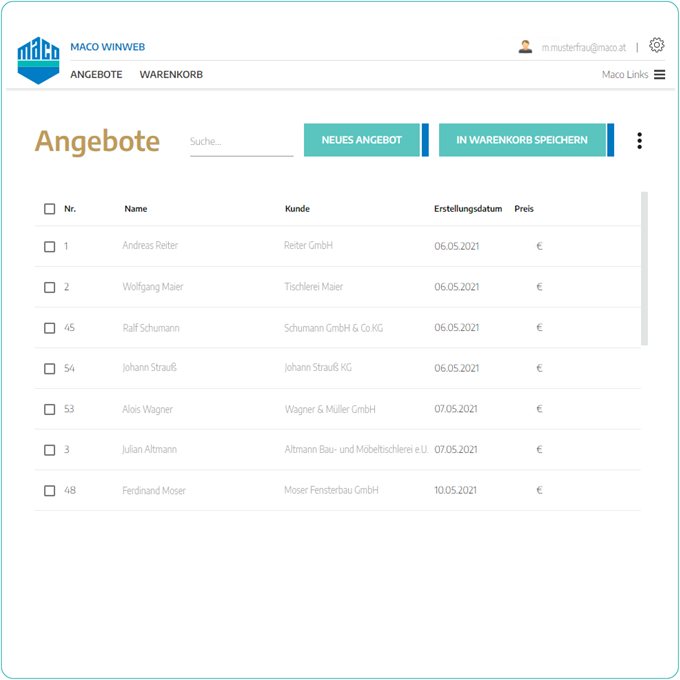 Manage & customise offers
The offers created by you and your colleagues are always clearly at your fingertips while practical searching is also possible. Integrate your company logo, convert prices into any currency and print your quotes.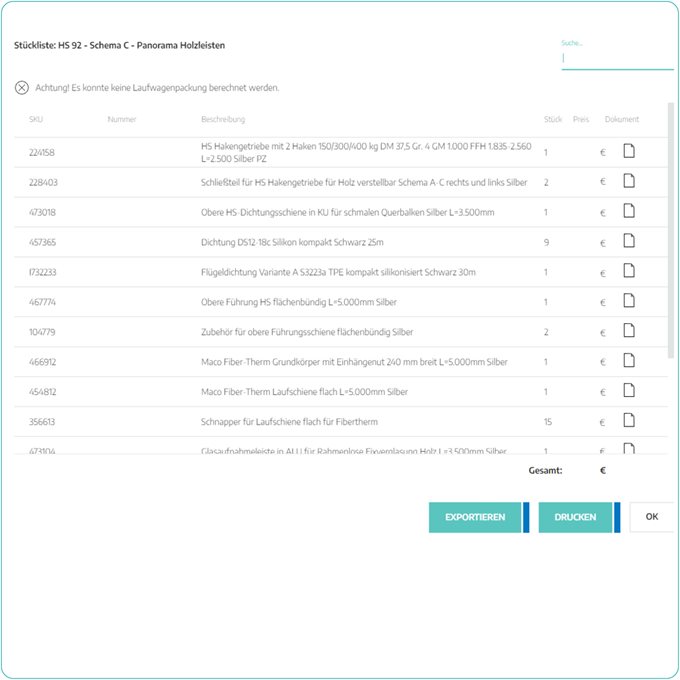 Parts list
For each quotation item, MACO WinWeb calculates an individual BOM based on the dimensions and parameters entered. This is the basis for your order and can be easily exported or printed.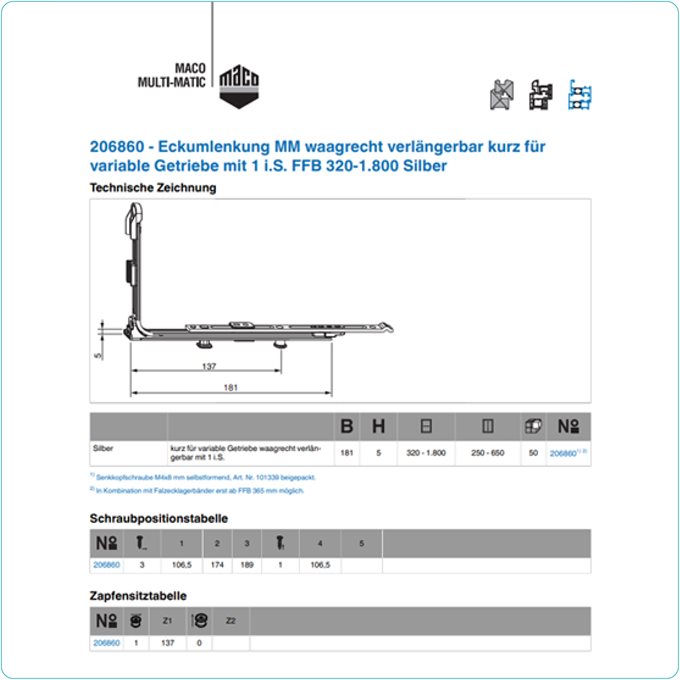 Technical details
The product data sheet from our MACO Technical Online Catalogue (TOM) contains all the details about each article. For example, the dimensioned drawing, drilling and milling patterns, pin positions and much more. You can call up this helpful document in the parts list at the click of a mouse and print it out if necessary.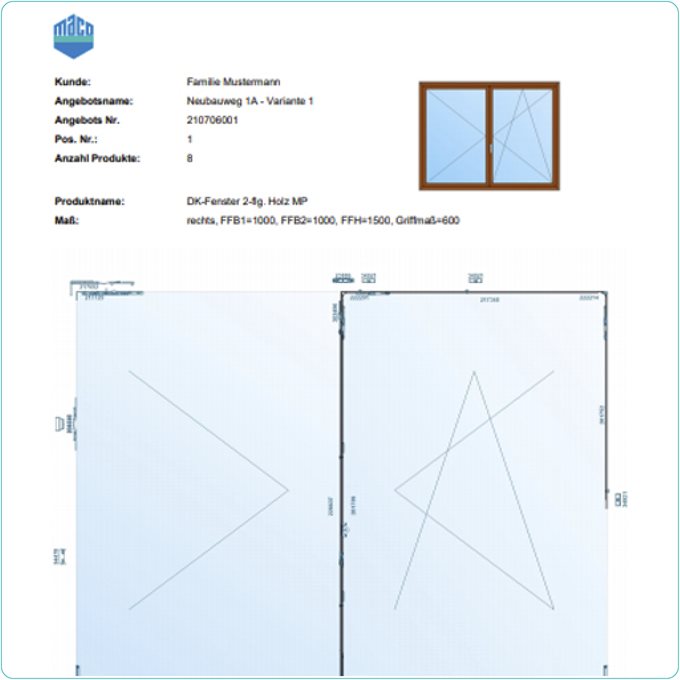 Print offers
The print function will provide you with a professional offer in PDF format, where the offer header and clear hardware drawing form the basis. The list of all calculated hardware components, with or without price, rounds off this practical feature.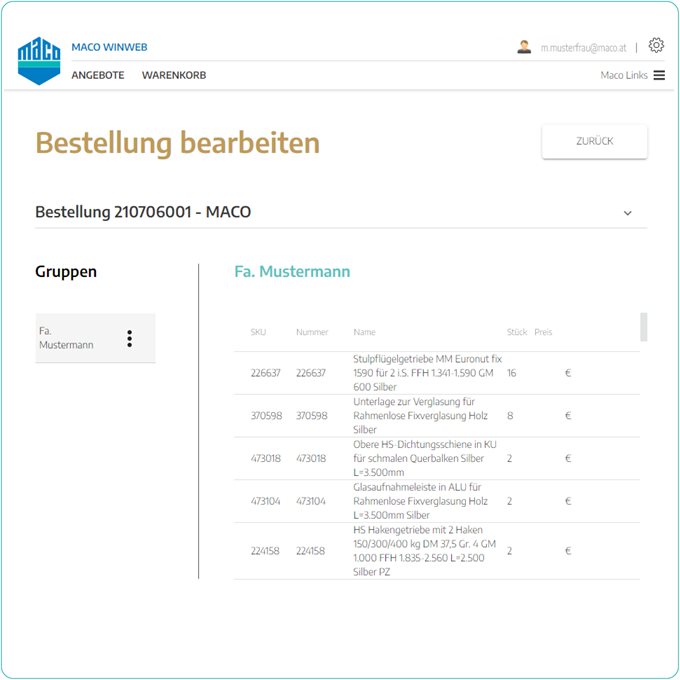 Order
If your customer likes the offer, add it to the shopping cart. For the actual order (e.g. via a merchant), export the desired shopping cart item and mark it as a completed order. The export file contains all the information necessary for the order and speeds up the process.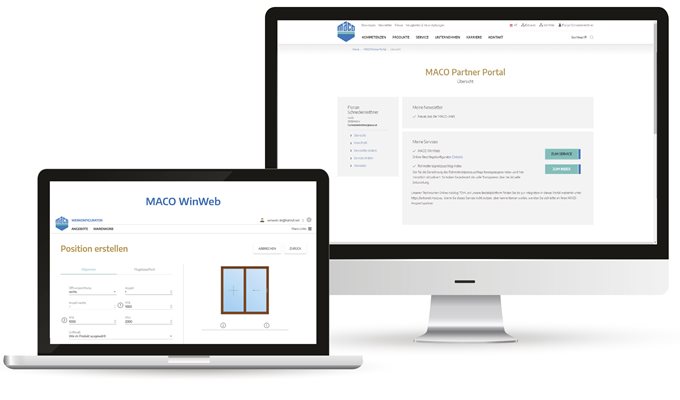 MACO WinWeb – request access now
To use the free online tool WinWeb, please register in the MACO Partner Portal and apply for the service. Please note that our portal is only available to our B2B partners and we cannot grant access to private customers. The examination may therefore take a few days.
Register today and request the practical MACO WinWeb service.