openDoor access control systems
Should your house, apartment or side entrance doors be opened without a key? Whether you are looking for a finger scan integrated in the push handle or in the door leaf, a pincode keyboard or a transponder tag - MACO's openDoor access solutions offer a wide range of possibilities that meet the highest demands in user comfort and safety. They are all versatile and comfortable to operate, fast in response time, tamper-proof, can be fitted outdoors and have a top-class design. These access solutions are completely pre-assembled and Plug&Play capable for automatic and motorised locks.
Biometric access solutions and remote / pincode solutions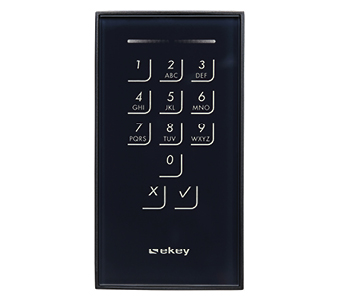 Keypad integrated into the door leaf
Opens using a four to eight digit pincode on the codepad. The capacitative touchpad is very easy to use thanks to its top-class haptic and can store up to 99 pincodes. It is embedded externally in the door leaf with the control unit being directly integrated into the door profile. This makes it as secure as it is beautiful.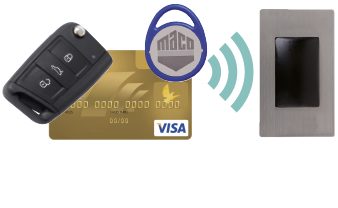 Transponder integrated into the door leaf
A car key, transponder chip or card become the house key. The contactless identification happens via the reader unit mounted externally in the door leaf or in the wall. The control unit is directly integrated into the door profile. This ensures the communication is encrypted and cannot be manipulated. Almost all car makes are compatible with this solution. Multiple car keys and transponder chips or cards can be read.
Protected against tampering, easy to understand and a breeze to install
openDoor is protected against unwanted tampering. The control unit of all three versions is located inside the house: for a surface-mounted solution, this is in the wall next to the front door and for a door leaf-integrated solution, it is integrated directly in the internal door leaf. Users quickly learn how to use their new access control version thanks to the succinct operating instructions which are even easy for laypersons in electrical systems to understand.
The connectors between the motor, operating unit and control unit have been kept so simple that any door manufacturer can easily connect them themselves.