Multi Power
The concealed hinge side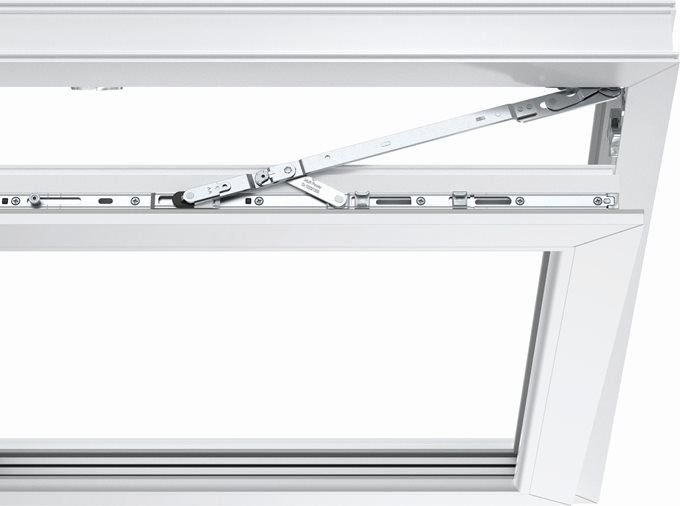 Powerful and concealed
Are the window aesthetics the main priority? Then, opt for a real design solution – the MACO Multi Power where the hardware cannot be seen when the window is closed. Super-slim, flush frames hereby become a reality.
And this does not come at the expense of function or security. Burglar resistant to RC3 and sealed for heat retention, the Multi Power lifts sash weights up to 130 kg and balcony doors up to 150 kg. Even triple-sash design windows are child's play with Multi Power.
Featuring burglar-resistance to PAS24-2012 and optimally sealed thermal insulation, the MULTI POWER can support sash weights of up to 130 kg on windows and up to 150 kg on casement doors on timber and PVC elements.
TO THE BROCHURE
MULTI POWER offers variety
Advantages & benefits
Advantages for
Fabricators
Clear differentiation with stable hinges and fixed axes
No open guide slots in the pivot post
Compact design
Low frame clearance makes for very slim profiles
Flush-mounted window systems with shadow joints from 4 mm
For 9 and 13 mm hardware axes
For aluminium systems with 16 mm Eurogroove
No need for locking point directly below the scissor stay
Automated fabrication, scissor stay faceplates and corner supports with gripping positions
No holes or routing, straightforward installation
Cover caps with customised logo possible
Benefits for
End users
No thermal bridges, no seal interruptions, no condensation
Burglar-resistant security up to RC 3 possible
Large opening angles of 100°
Integrated sash lifter
Integrated anti-slam device for tilt position
Barrier-free transition to the balcony and patio doors in terms of DIN 18040 or ÖN B 1600 in combination with a threshold
Improved slider in the scissor stay for reduced maintenance
No visible white grease
Visually appealing with flush design
The small frame clearance allows trouble-free placement of the operating elements for shading
Cover caps
Extremely corrosion-resistant thanks to optional TRICOAT-PLUS hardware finish