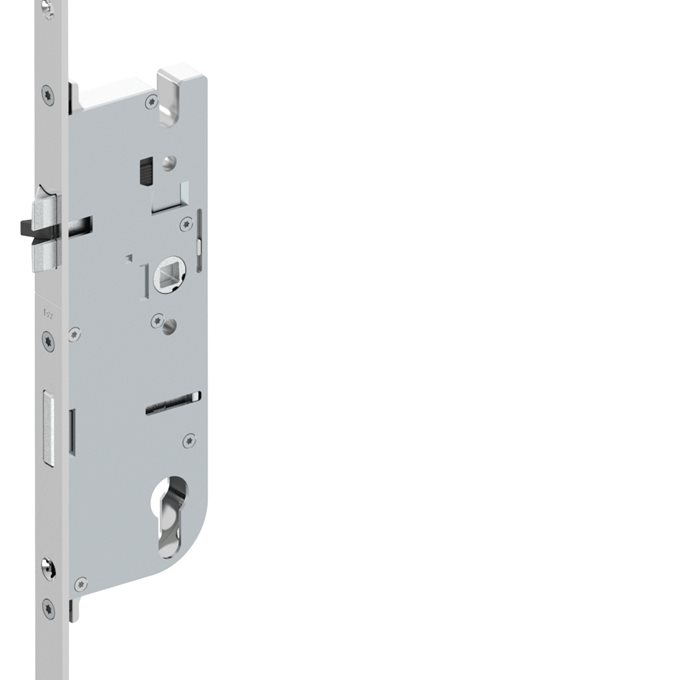 The G-TA can be used in three versions: as an automatic door lock, handle-operated or as a balcony door locking system. The end user is free to choose.
Advantages & benefits
Advantages for
Fabricators
The new G-TA door lock range provides all the options that fabricators and end users require: a door lock range that is versatile for use with front doors, back doors and balcony doors, individual operation modes with automatic or mechanical function.
3 in 1 – automatic door lock, handle-operated door lock and balcony door lock in one product
Complete range from DM 28 – 50 (DM 25 for the balcony door version)
Rapid installation with minimum routing (routing required only for the main lock casing)
Extends up and down
Can be used on the left/right
MACO cranked latch installed as standard
Very stable due to 3 mm faceplate material
Convenient latch conversion without the need for tools
Handle turns up 90°: the G-TA is thus ideal for MACO PROTECT special applications (window in door leaf).
In conjunction with the MACO i.S. security roller cam, it satisfies the highest security requirements (RC 2 according to EN1627 – 30)
Deeper engagement of the i.S. safety roller cam in the striker plate – 20 mm travel
Unrivalled aesthetics with patented MACO top hat faceplate
Benefits for
End users
Not every door needs to be locked automatically after closing.
Nonetheless, it is good to know that this technology can also be used with the G-TA.
Maximum security with the MACO G-TA (EN1627 – 1630, RC 2)
5 locking points with 4 i.S. security roller cams and locking bolt
Automatic locking for the utmost convenience (automatic version)
When operated manually: comfortable operating forces on the handle thanks to the optimised design of the lock case
Unrivalled aesthetics due to MACO top hat faceplate
Durability testing in accordance with European Standard (DIN 18251-3) – 200,000 operations