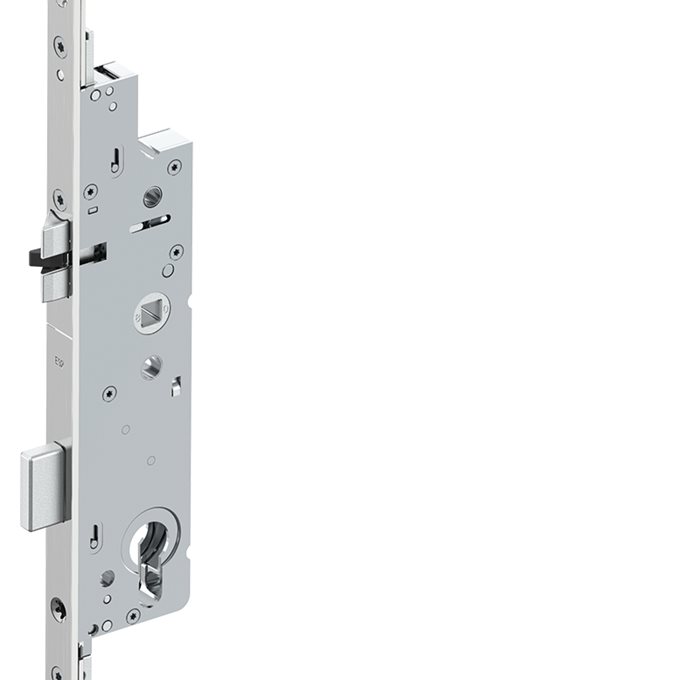 The MACO PROTECT Z-TF has two additional multifunctional latches to complement the standard cranked latch and produce an optimal, permanent gasket compression over the entire height of the door. Immediately after closing, the door leaf is held securely and reliably at three points, without the need for additional locking. The Z-TF door lock range is available with bolt or i.S. security roller cam. Standard-compliant resistance time according to RC 2 and RC 2 N has been verified for the Z-TF. The Z-TF is compatible with electric openers and is therefore also suitable for project deployment with several residential units.
Advantages & benefits
Advantages for
Fabricators
This door lock offers easy handling and excellent functionality.
One routing pattern for two different locking mechanisms
Z-TF with i.S. security roller cam or bolt locking
Available in three different heights
Easy and quiet closing thanks to the standard cranked latch
Straightforward and rapid installation, since the flat latch element requires no routing
No routing for the i.S. striker plates
Easy gasket-compression adjustment
Can be combined with commercially available symmetric electric openers
Benefits for
End users
Safe and secure up to RC 2 with sophisticated operator convenience.
Open with ease by handle (inside) and key (outside)
Permanent gasket compression over the entire door height (intact sealing and sound insulation)
Easy and quiet closing thanks to the standard cranked latch
Permanent counteraction of any distortion of the door
Electric openers can also be used
Burglary-resistance grade up to RC 2 according to EN 1627 - 30
Simply press a button to open the front door conveniently from any apartment thanks to the electric opener