MULTI ZERO 0 mm threshold systems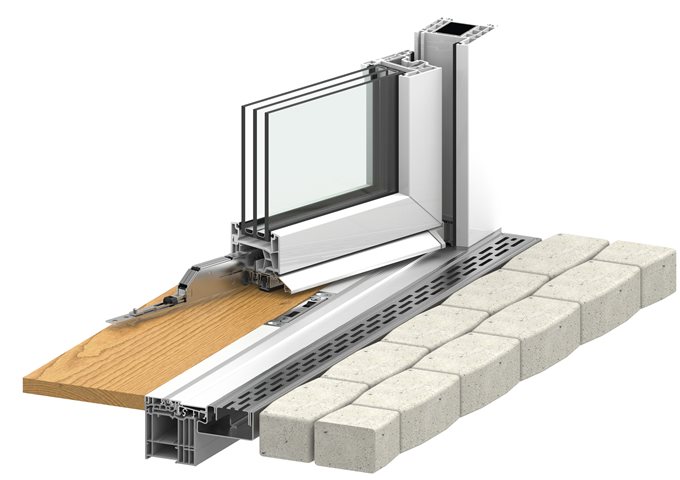 MULTI ZERO for a fully barrier-free design
Thresholdless French doors
Whether bobby car, rollator walker or wheelchair - the Multi Zero fitting ensures flush to floor transitions without tripping hazards. The completely level threshold protrudes by zero millimeters. Thus more than meeting the requirements of DIN 18040.
Use this technically unique solution to create comfortable and aesthetic balcony and patio doors that are trip free for everyone. It is suitable for a full range of applications from premium developments to public buildings, retirement homes, kindergartens, etc.
Barrier free threshold system
Multi Zero
Advantages & benefits
Advantages for
Fabricators
USP on the market: Manufacture step loose French doors with unique locking technology.
Customisable: The hook fastener can be extended and easily adapted to the door width.
Simple processing: One milling on the sash and one on the frame is sufficient.
Low logistics effort: Only two additional items turn the standard fitting into a barrier free solution.
No strip seal: The highly efficient drop-down seal can be integrated into the respective system.
Simple mounting: thanks to centre fixation
Benefits for
End users
Unique comfort: The ground level threshold connects the inside and outside barrier free for living without obstacles.
Absolutely tight: The integrated, highly efficient drop down seal retains water and air.
Functional: The sash can be turned and tilted as usual. The lever out protection in the tilt position ensures the greatest possible safety.
High safety: The hook lock enables the standardised security class RC 2 - also for barrier free threshold systems.
Downloads
Operating & service manuals