MACO mTronic & MACO eTronic
Welcome to the Smart Home
Living in an intelligent home has long since ceased to be a thing of the future. The smart home makes it possible today for building components to actively think. The MACO mTronic and MACO eTronic wireless sensors easily integrate windows, doors and sliding elements into the smart home system. The benefits? More security, control, comfort and energy efficiency in your own home – in short, an investment that pays off.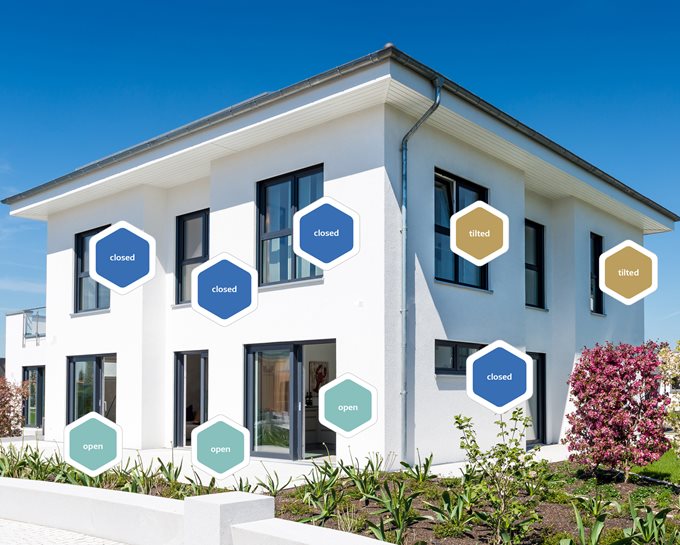 A secure feeling
Window status monitoring from MACO
Is my window open, tilted or closed? Or is a burglar trying to get in? The MACO wireless sensors always keep an eye on the situation - they monitor windows, doors and sliding elements, thus making a valuable contribution to security and comfort.
eTronic and mTronic deliver their full capability in combination with a smart home system. A quickly installed alarm system and automatic status messages (sent to your smartphone) are just as possible as heating control or automatic ventilation control.
The MACO family of wireless sensors thus impresses across the board.
Two wireless sensors, many possibilities
The functions at a glance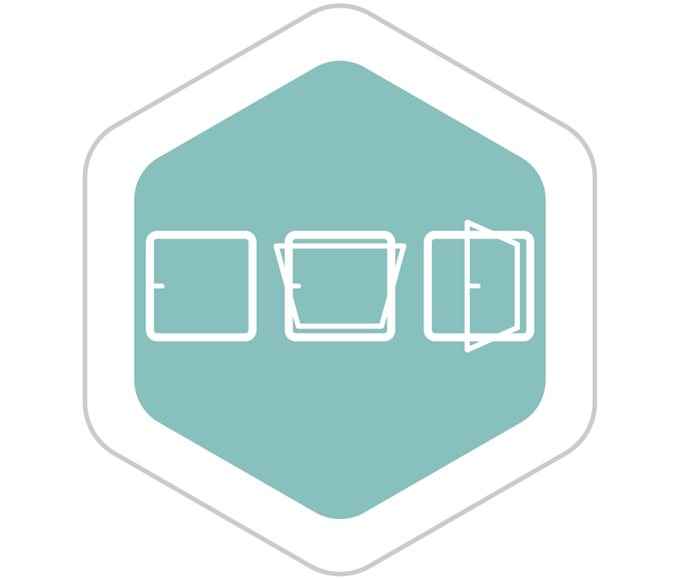 Window status
Always keeping an eye on the essentials - open, closed, tilted?
Leave your house with a calm feeling. With the mTronic and eTronic wireless sensors and your smart home system, you are always informed about the current status of your windows, doors and sliding elements.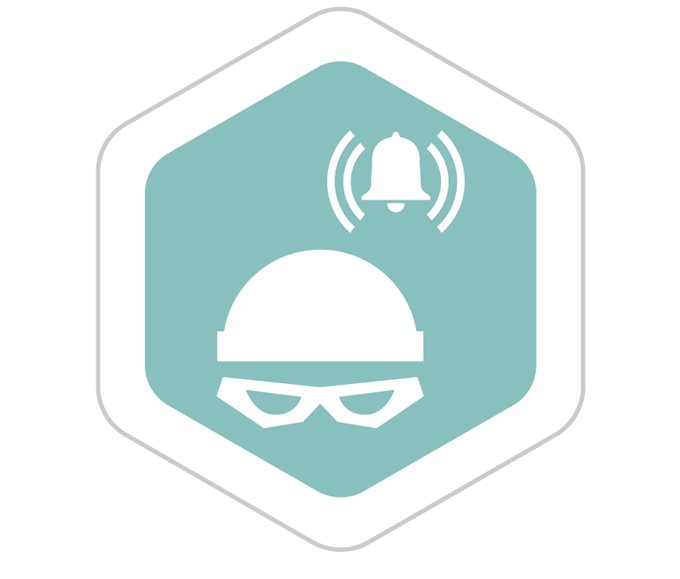 Burglary detection
Automatic burglary detection without activation
mTronic detects by the movement of the locking pin whether it is moved on purpose or jemmied by force, in both the locked and tilted position (depending on the installation position). This is unique!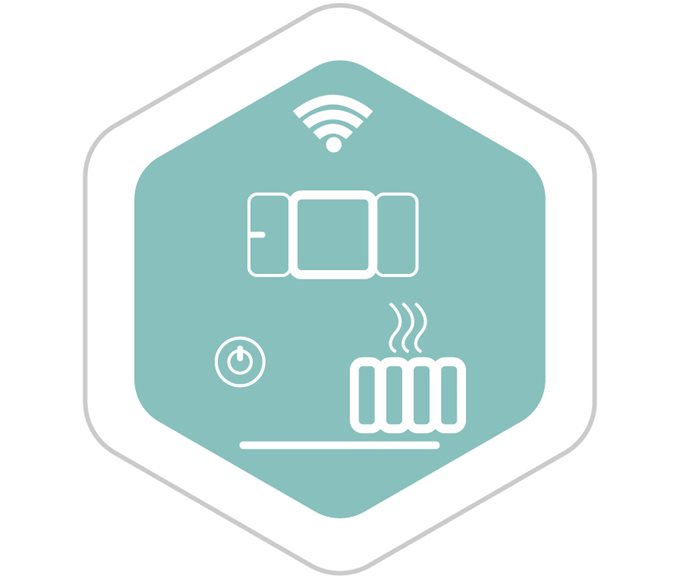 ... and much more
Full functional performance in a smart home system
Here are two examples, among many. Save real money with your wireless sensor by automatically deactivating the heating when windows are open. Or you can easily control, in combination with automatic hardware, your open sliding door whilst on the go.
Key data that's convincing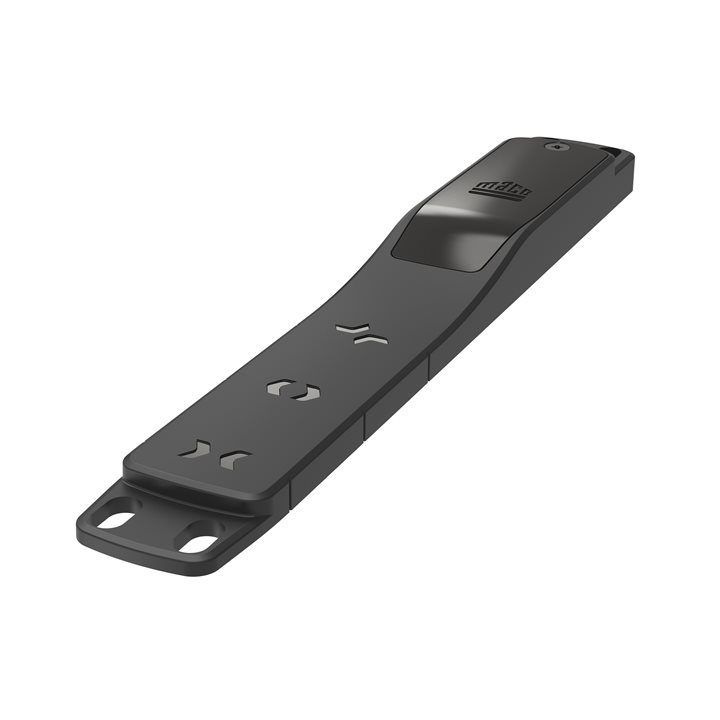 mTronic
The all-rounder
Application areas: window, door, sliding element
Window status detection: open, locked, tilted
Door status detection, sliding element: open, closed
Size: 18 x 9 x 135 mm (W x H x L)
Pre-requisite window/door system: rebate depth min. 18 mm, rebate gap min. 12 mm
Installation position: flush mounted
Compatibility: all materials (timber, PVC, many aluminium profiles), many hardware systems
Connection type: wireless, wireless standard EnOcean
Battery life: 3 to 5 years (easy replacement)
By the way, you can also look forward to the elegant black redesign of our mTronic wireless sensor (see illustrations), which we expect to supply you from the 4nd quarter of 2022 onwards. The well-proven version is currently available in light grey.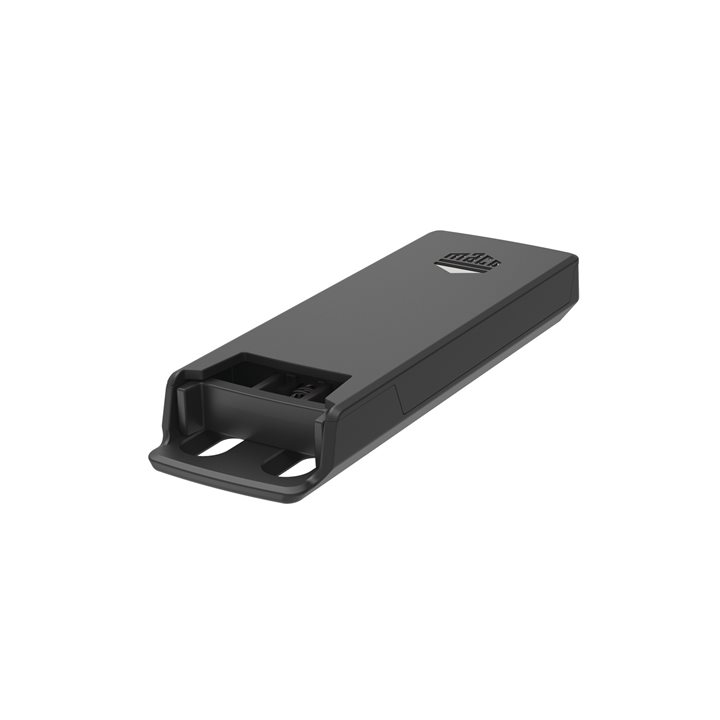 eTronic
The Control specialist
Application areas - windows
Satus detection - open, locked
Size: 24 x 10 x 70 mm (W x H x L)
Pre-requisite: rebate depth min. 24 mm, rebate gap 11 to 14 mm
Installation position: flush mounted
Compatibility: All materials (timber, PVC, aluminium), hardware neutral
Connection type: wireless, wireless standard
Battery life: 6 to 8 years (easy replacement)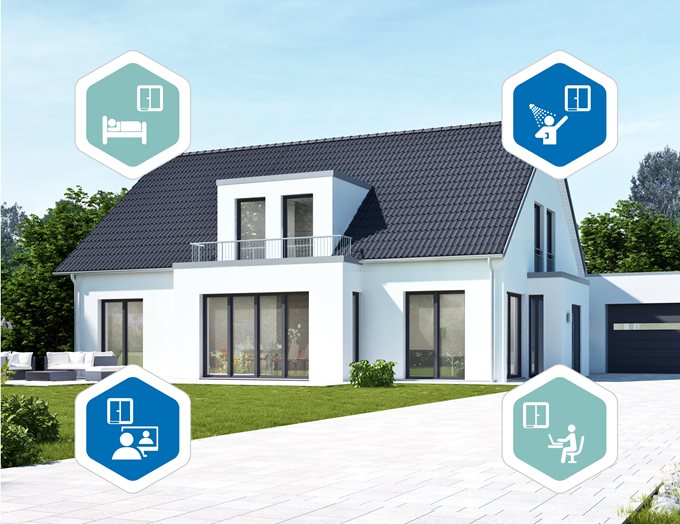 Vigilant throughout the house, strong in combination
Home security and comfort should be particularly comprehensive, but while keeping the costs manageable. This is where it is recommended to combine the sensors MACO mTronic and MACO eTronic.
Install mTronic wherever burglars could have an easy time, especially with windows and doors on the ground floor - the sensors trigger an alarm in case something happens. And the cheaper eTronic? This suits all windows, but it is also used as a supplement to mTronic for example, upstairs or for smaller ventilation windows.
The MACO wireless sensors - a good security team.
Installation areas mTronic & eTronic
Status detection for window, door and sliding element
Easily integrated & networked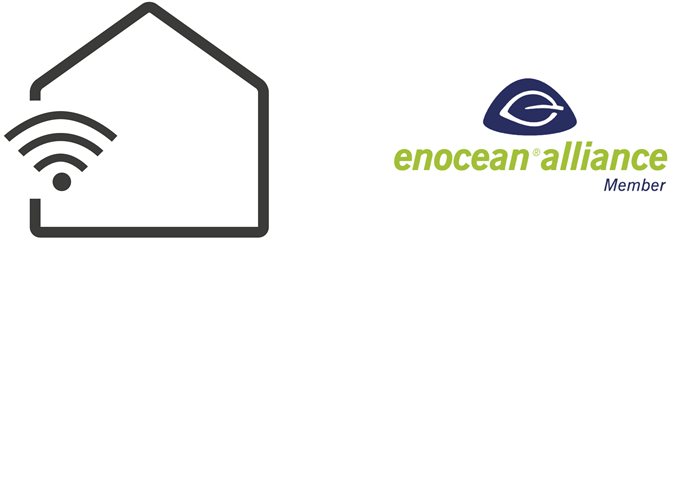 Compatibility thanks to secure wireless standard
Compatibility thanks to secure wireless standard
The "Smart Building Components" from MACO use the energy-efficient and commonly used in the smart home sector, EnOcean wireless. They are thus compatible with many smart home systems.
Once mounted, the integration of the MACO wireless sensors into the smart home system is super simple:
Activate
Follow the installation instructions for the respective smart home system
Done!
Now, the wireless sensors can be used for example with smart heating, a rain sensor or an alarm system.
Further information on the EnOcean wireless standard (e.g. on safety and range) as well as application examples can be found on www.enocean-alliance.org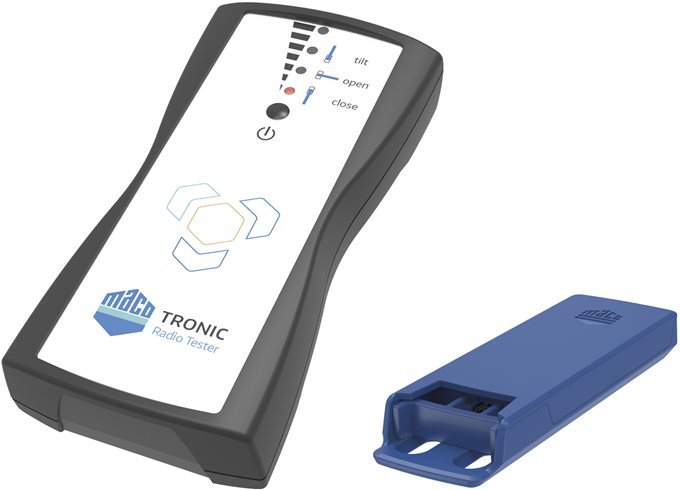 Wireless? It works!
Test device and test transmitter for MACO radio sensors
Does the wireless work? Is the signal quality right? Our test device determines the range and quality of the EnOcean signal for the mTronic and eTronic wireless sensors. This little helper thus makes it easier to select the gateway location or shows where a repeater is needed for a secure connection via EnOcean.
Included is a test transmitter with which all elements in a building can be tested for connectivity - before the sensors are installed. This saves trouble and unpleasant surprises. In addition, the test device can evaluate the status signals of the MACO sensors by displaying their datagram as a status signal. An extremely practical additional benefit for the quick analysis of all built-in wireless sensors.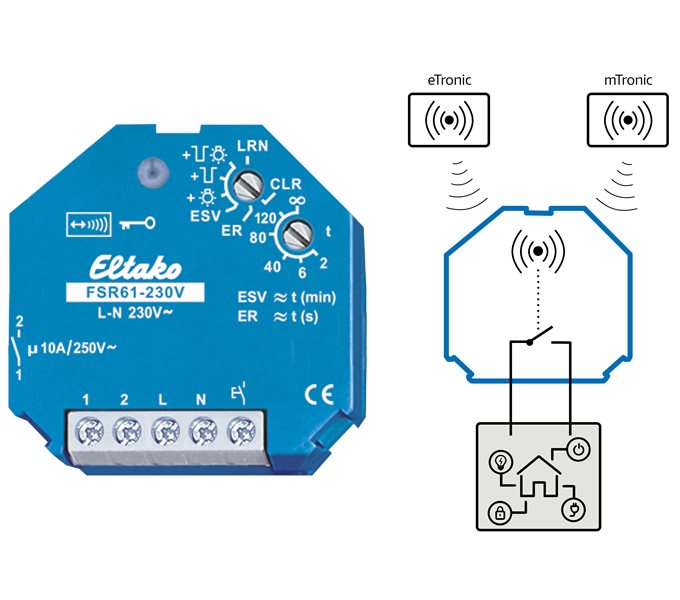 Want to connect the MACO wireless world with your existing cabled world? No problem!
Flush mounted wireless actuator
Wireless and cabled. Cabled and wireless. Two worlds that cannot be connected with each other! Yes, for a long time this was the case. But now it's child's play with a wireless actuator, which is best elegantly hidden in a flush-mounted box. MACO eTronic and MACO mTronic can be used together with cabled sensors in a smart home.
Here's how it works - the sensor monitors the window status and reports it back to the wireless actuator. This receives the signal (from the sensor or sensors) and triggers an action. The actuator passes it on to the home control system via an opener and closer contact.
Compatible smart home systems
MACO mTronic and MACO eTronic can be integrated into many common home control systems via EnOcean, the smart home wireless standard. And it's really easy! Below you will find an overview of our wireless sensor partners. Their systems correctly display the open and closed states that our sensors report. We therefore recommend that you use these smart home systems.
In the integration instructions you will find a step-by-step guide for the integration of mTronic and eTronic into the respective systems. Do you have any further questions? Then, please contact the support of the respective smart home provider (see links), who will be happy to help you.
Wireless Sensors FAQ
Frequently asked questions
Can I connect the wireless sensors directly to my smartphone to see if my windows are closed?
To see the current window status, you need to integrate mTronic and eTronic via a smart home gateway (e.g. Homee, Somfy or Mediola; see list above). This allows you to view the window status on your smartphone/tablet via the app of the smart home system provider and set further scenarios / automations.
I already have a wired building management system or parts of one. Can I use the eTronic or mTronic wireless sensors to expand my system?
Yes, mTronic and eTronic can also be a useful addition to wired systems. This is possible, for example, via a so-called flush-mounted actuator, which picks up the EnOcean wireless signals from the sensors and forwards them via cable. Alternatively, various system providers can integrate wired systems as well as record wireless signals (e.g. Mediola or Symcon; see list above).
I am having problems integrating mTronic or eTronic into my smart home system. Who can help me further?
It is important that your sensor and your gateway or system are compatible with each other (see EnOcean wireless protocol above; compatible systems) – then the integration is very simple. For the mTronic integration, please pay attention to which installation position has been selected and set the appropriate mode. It still doesn't work? Your system provider's support will help you with all your concerns (integration, scenario programming...) further.
Are MACO wireless sensors also compatible with Amazon Alexa, Apple HomeKit and/or Google Home?
The selected smart home system decides whether voice control via Amazon Alexa, window status display via Apple Homekit or the use of Google Home is possible. Many systems that are compatible with mTronic and eTronic already offer networking with Alexa, Apple and Google.
My mTronic no longer shows anything, the sensor LED flashes quickly. What could the error be?
Here, "alarm" has most likely been triggered (potential break-in) and thus the automatic lock has been activated. You must deactivate them (see package leaflet) according to the previously used mode. Attention: please treat your mTronic with care, because damage to the electronics inside can also lead to an automatic lock.